---
Do you feel weakness, tingling, or numbness in your hands? Or even pain and swelling in the finger joints or wrists?
Now you can get fast pain relief from symptoms of Arthritis, Carpal Tunnel Syndrome, and General Hand Pain using Hand Maasager. Scientifically designed to target the acupuncture points in your hands, this massager combines air compression and heat therapy to improve carpal tunnel syndrome and other hand conditions.
⭐️⭐️⭐️⭐️⭐️
"Really helps my husband's hands after a hard day at work. I would struggle to squeeze his hands when they hurt but with this - it's perfect. Plenty of pressure for him to adjust and the heat is good. I use it with no problem as well. Worth every penny if it helps take care of my husband."
Katlyn W.
 RELIEF IN 15 MINUTES: Provides a 15-minute gentle massage along with heat therapy that helps relieve numb, stiff, and cold hands by promoting blood circulation. 
 ONCE MASSAGE A DAY KEEPS THE PAIN AWAY: Rhythmic air compression and heat therapy gently knead your hand to keep the pain away.
 RELIEVES ANY HAND PAIN: Scientifically proven to provide relief to arthritis, carpal tunnel syndrome, trigger finger, cold hands, inflammation, strain injury, tendonitis, numbness, neuropathy, and stiffness.
 3 INTENSITY LEVELS: Smart innovative technology targets the pressure points in the hand with different intensity levels based on your levels of pain.
 PERFECT GIFT FOR LOVED ONES: This Hand Massager is the perfect gift for your hubby or wife who would benefit from this innovative solution to hand pain.
 CORDLESS AND PORTABLE: Simply charge it once and you can massage your hands for hours and experience fast hand pain relief without worrying about cords.
 30 DAY SATISFACTION GUARANTEE: If anything is wrong with your Hand Massager, you can quickly contact our helpful customer support team to get a refund.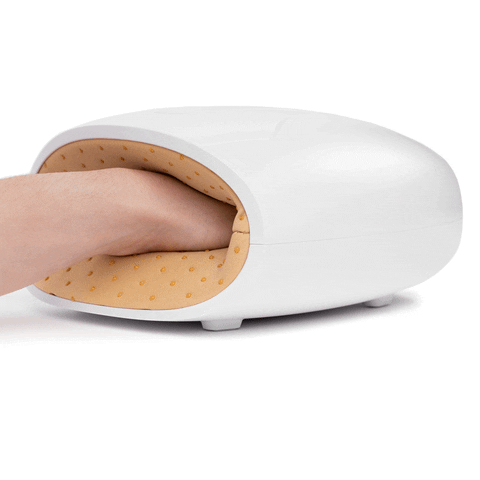 How Does It Work? 
1. The Hand Massager targets the pressure points in your hand with its built-in air compression and nodes soothing your entire hand and fingers. (3 Levels of intensity)
2. Three intensity levels and two heating levels help increase your blood and oxygen circulation to relieve numb, stiff, and cold hands.
3.The Hand Massager also features 2 hand-size modes. This allows The Hand Massager to adjust to your hand for a more personalized message.